Tina ,
a Caye Caulker native or 'island girl', has traveled extensively and lived in many countries, including Curacao, St. Lucia, St. Maarten, Miami and Africa. Friendly and outgoing, the free spirited Tina decided that Caye Caulker would be the perfect location for a European influenced 'Youth Hostel' ! She was right!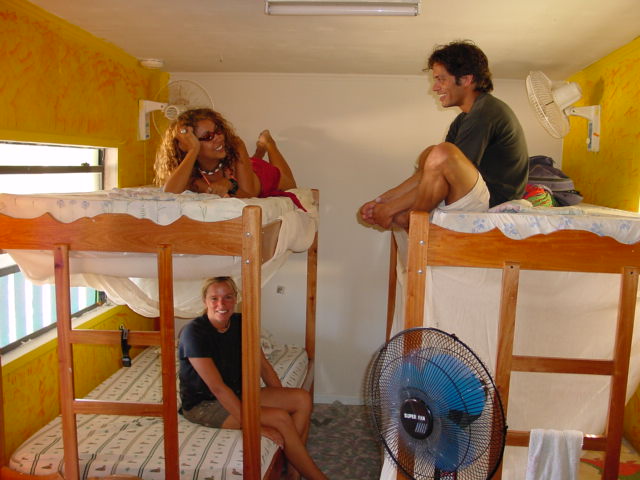 "Tina's Backpacker's Hostel" is a popular and up-beat place with a large international clientele.. With a community kitchen and sitting area, it has the makings of a 'family style' gathering. What better way to make friends, learn about other countries and cultures or share 'traveling tips'?!
Even on the occasional rainy days in paradise, the people at the hostel are active, playing cards, watching movies together, or challenging each other to a quiet game of chess or checkers. Every now and then, there is a musician in the crowd, who feels free to pull out his guitar, banjo, flute, or instrument of choice and lull the lucky group, who chose the hostel for
their accommodations on Caye Caulker, with his music!
Heck, sometimes, even Tina herself has gone fishing and brought home a big 'catch' and decided to invite the whole crowd to her house for a delicious fish dinner!
The hostel, has a large verandah overlooking the Caribbean sea. There is also a lush garden in the front yard, with hammocks, tables and chairs, for those who chose to spend the day 'relaxing at home'! Tina's Backpacker's Hostel is easy to find - if you arrive by water taxi, turn Right and walk along the beach; it is located less than a 100 yards from the main pier where the water taxis dock in Caye Caulker.
"Tina's Backpacker's Hostel" offers dorm style rooms, 4 - 6 people per room, shared bath facilities and a relaxed and peaceful community atmosphere.
The cost? - Rates per 'bunk' is an incredibly low $10.00 US per night. Lockers, washing facilities, water, sodas and Tour Desk are all part of the hostel. Questions on diving and dive sites? - Ask Tina, she's a Certified Dive Master!
So the next time you are in Caye Caulker (Belize), or even if it is your first time, why stay anywhere else?! See you at the hostel! Where the fun begins and ends in Caye Caulker!